PM is pleased to welcome Meryem Saadi as PM Mobile Resident to the Immigré Artist (IA) Network at Art Lab Gnesta, Sweden.
Meryem Saadi is a curator, cultural activist, and journalist from Morocco who recently relocated to Sweden, where she is a PhD candidate in Art History at Uppsala University. Her work explores the intersections of contemporary art, architecture, social conflicts and vulnerability.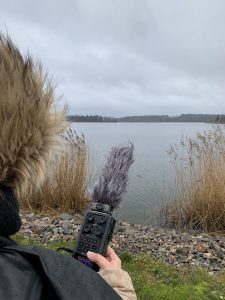 Over the course of her PM Mobile Residency at Art Lab Gnesta, Saadi is collaborating with the Swedish independent curator and writer Sara Rossling who works with research-based art projects, residencies, exhibitions and public art. Rossling is interested in cross-disciplinary thinking, sustainability and artistic responses to societal issues. She has curated exhibitions in Sweden and abroad, including at Rutiga Golvet, Royal Institute of Art (Stockholm), for Stockholm metro (Konstväxlingar), the Ottilia Adelborg Museum (Gagnef) and at the OFF biennial 'Something Else' (Cairo) with Power Ekroth. She is currently working between Skåne and Stockholm as chairman of NKF-the Swedish section and leading a public art project in three municipalities in southern Sweden.
Saadi's residency at Art Lab Gnesta is dedicated to exploring the question of connectivity and site-specificity in the Covid-19 context, when many residency programs are taking place virtually. How to connect in these strange times without meeting physically? How can artists explore and embed themselves in a place they cannot travel to? How to involve the local community in this process? Saadi and Rossling invited three international artists to join them in exploring these questions over the course of the residency: Milagros Bedoya (Peru), Tatiana Danilevskaya (Russia) and Abdellah M. Hassak (Morocco). The outcome of the research born during the residency will be presented during an upcoming exhibition at Art Lab Gnesta in the fall of 2021
Art Lab Gnesta is a place for creating, debating and experimenting with connections between art and society. They are interested in the relation between art, the local community, schools, art institutions and others involved in the arts or social issues – locally, nationally and internationally. The residency programme is an integral part of their activities. As part of their "Immigré Artists" residency programme they collaborate with Det Konstnärliga Rådet (The Artist Council) in Stockholm, a platform for immigré artists and curators in the Stockholm region, initiated by the curators Abir Boukhari and Ulrika Flink.
Art Lab Gnesta joined Perpetuum Mobile's residency network in April 2019, with funding from the Nordic Culture Point. The residency includes curatorial and practical support from both Art Lab Gnesta and PM, including an apartment, a monthly grant and covers extra costs such as travel.
PM links:
PM-MOBILE Resident Meryem Saadi
External links:
Meryem Saadi is a PM MOBILE-Resident hosted at Art Lab Gnesta in Gnesta, Sweden as part of the Immigré Artist (IA) Network co-funded by Nordic Culture Point. The IA-Network is curated by Perpetuum Mobile (PM).