Fingerpainting Lecture Performance and Talk on the condition of artistic production at the periphery, by Vladan Jeremic and Ivor Stodolsky.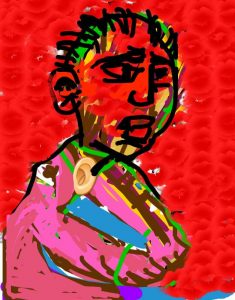 The Diary of Balkman emerged from the obscurity, corruption and ostracism surrounding the arrest of Vladan Jeremic. For the first time, the artist and the curator Ivor Stodolsky will present this remarkable digital diary and testimony. An extensive series, created in a new genre of digital fingerpainting-collage technique tells of its prison-world in a "balkish", one might say, obstructive and post-artistic way.
The Salon of the Unbribables was an event related to corruption, the possibility of unbribability, and censorship at the EU periphery. The Salon of the Unbribables brought together cultural workers and artists who choose to withstand the prevalent trend of bribability. The main question was: Is it possible to be unbribable under conditions where it is claimed that everything und everybody has its price? Here, unbribability was not understood as a tendency towards a certain value or a moral attitude. The Salon of the Unbribables was born out of the situation where artists in Serbia are deprived of space and voice. Being unbribable is a form of protest against the power game with its give and take, dictated by the bloc in power.
The Salon of the Unbribables was launched at the re-opening of the Museum of Contemporary Art in Belgrade, October 20 2017. It culminated with arrest of Vladan Jeremic, one of the organizers.
Vladan Jeremic, artist and political worker from Belgrade, Serbia.
Ivor Stodolsky, writer and curator. Co-Founding Director of Artists at Risk (AR) and Perpetuum Mobile (PM), Berlin-Helsinki.
Curatorial Statement
The Diary of Balkman https://thediaryofbalkman.wordpress.com/about/:
After decades of the deafening horror of turbo-folk-charged regressive nationalist narratives, Balkman balked. Building the bastion of the Unbribables, he balked at the bribability of Balkanic institutions. The pretty purgatory of petty art institutions in particular.
It took ten years of dubious delays, corrupted to the core by enlightened embezzlement, and the Serbian Museum of Contemporary Art opened. The President personally wanted a culture cult. The institutions instituted…
Baked bribability bubbled. What was there to do but balk? Balkman simply let the Horrorkatze out of the bag.
Arrests followed, and after release, a new flame of fear was fanned… intimidation, ostracization, isolation… to guarantee the temperature of the bubonic reaction. Greased by greenbacks and sanguine memories, all safe pairs of hands tipped and toed the bidding of the big brokers, brooking no breach in their bribability.
Lost on the Autobahn between Berlin and Bagdad, at the corner of Peter, Fatma, Isi and Basil's, a dilapidated jailhouse rots. But there is life in it still.
Balkman balks.
Immigrating into his double-digital diary, daily, he tears his fingers on the window of his smooth little screen…
These are remarkable images and his terrifying testimony.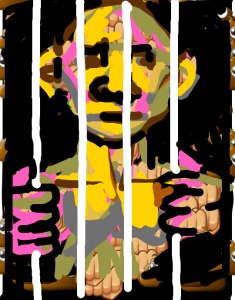 <<<<>>>>
More on The Salon of the Unbribeables: https://artseverywhere.ca/2017/11/08/unbribables/
More on detention case: Artists arrested during opening in Belgrade
https://conversations.e-flux.com/t/artists-arrested-during-opening-in-belgrade/7195