Meryem Saadi is a curator, cultural activist, and journalist from Morocco who recently relocated to Sweden, where she is a PhD candidate in Art History at Uppsala University. Her work explores the intersections of contemporary art, architecture, social conflicts and vulnerability. Before moving to Sweden in the fall of 2017 to pursue a Master's in Curating Art at Stockholm University and a postgraduate course in "Decolonizing Architecture" at the Royal Institute of Art in Stockholm, she worked at the National Foundation of Moroccan Museums (Fondation Nationale des Musées du Maroc), and was part of the editorial team of the Moroccan weekly magazine TelQuel.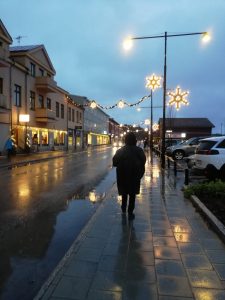 During her residency at Art Lab Gnesta, Saadi is working with Swedish curator Sara Rossling, exploring the question of connectivity and site-specificity in the Covid-19 context, when many residency programs are taking place virtually. Read more here. 
PM links:
Welcoming Meryem Saadi to Art Lab Gnesta as a PM-MOBILE Resident
External links:
Meryem Saadi is a PM MOBILE-Resident hosted at Art Lab Gnesta in Gnesta, Sweden as part of the Immigré Artist (IA) Network co-funded by Nordic Culture Point. The IA-Network is curated by Perpetuum Mobile (PM).