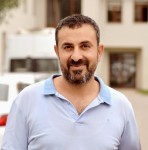 PM is proud to announce that Erkan Özgen is going to be a  Safe Haven Helsinki resident from June 27 until September 10, 2016. The Safe Haven Helsinki acts as a "breather" for the Kurdish artist from Amed (Diyarbakir in Turkish) Eastern Turkey, who has previously worked in locations such as Kobane (Syria), Beirut, and Damascus. Parallel to his artistic work Erkan is active in Mesopotamian Ecology Movement.
Safe Haven Helsinki for art practitioners at risk is curated by PM (Perpetuum Mobile) and is co-organised by HIAP (Helsinki International Artist Programme). It is funded by the City of Helsinki.
Safe Haven Helsinki is the continuation of the On the Move / Nordic Fresh Air residency programme for art practitioners at risk also run by PM/HIAP since 2013. For background, see: http://www.perpetualmobile.org/category/safe-haven-helsinki
http://www.hiap.fi/project/move.
During his residency, Erkan will participating in HIAP Open Studio event in July, and in Perpetuum Mobile's PLURIversity project at the end of August. Pluriversity invites leading artists, inspiring teachers and art students from a wide variety of backgrounds to build an overlapping series of long-term projects, and grows a set of learning-by-doing platforms to result in real-world outcomes for young people – of all, and especially disadvantaged backgrounds; PLURIversity is supported by the Kone Foundation.
http://www.perpetualmobile.org/category/pm-projects/pluriversity/?lang=en
BIO / BACKGROUND
Erkan Özgen was born in Derik in Mardin province,Turkey in 1971 and graduated from the Department of Art Education, Cukurova University in 2000. His artistic adventure began in 1998 with a contemporary art exhibition "Young Activities". Since that time he has participated in numerous group exhibitions in many countries including Albania, Croatia, France, Germany, Iran, Italy, Israel, Lebanon, Spain, Sweden, Switzerland, The Netherlands, Turkey, Austria, UK, USA, Austrian,Cyprus, Estoni, Ljubljana and Montenegro. In 2005, Özgen participated in a residency program in the International Artists Studio Program Malmö, Sweden. In the same year he received the "Prix Meuly" from the Kunstmuseum Thun, Switzerland. In 2008, he took part in the Can Xalant artist exchange program at the Center for Creating and Contemporary Thought in Mataró, Barcelona. He has also organized workshops in Beirut, Damascus, Diyarbakir and Enshede. During the same period Özgen has given interviews about art in Turkey and various other countries.
More information on Erkan Özgen and examples of his work can be found on his website:
 http://erkan-ozgen.blogspot.gr/ 
More information on Mesopotamian Ecology Movement:
http://new-compass.net/articles/mesopotamian-ecology-movement-presents-its-aims
More information on Artists at Risk / Safe Haven Helsinki programme: http://www.artistsatrisk.org