NON-ALIGNED
Lost Notes from the Underground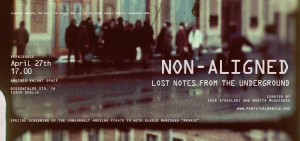 RE-ALIGNED
…and into the fire.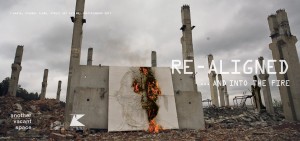 Curated by Ivor Stodolsky and Marita Muukkonen
of Perpetuum Mobile
Vernissage April 27th, 2012 at 17.00
another vacant space.
(event on facebook)

NON-ALIGNED
Lost Notes from the Underground
Locked in a wardrobe behind the artist Vladimir Semenov's kitchen table for nearly twenty years, The Archive of Leningrad Conceptual Artwas discovered by Ivor Stodolsky and Marita Muukkonen during curatorial research for the retrospective survey exhibition The Raw, The Cooked and The Packaged – The Archive of Perestroika Artat the Museum of Contemporary Art, Kiasma, 2007-2008.
another vacant space.is a warranted way-station for these lost notes from the Russian underground.
Leningrad Conceptualism,unlike its famous and distant Moscow relation, was virtually unknown at the height of its activity. The Archive's documentary evidence is like a report from the scene of the crime. Composed on crisp rice-paper, meticulously collected in numbered, Soviet-order folders, are the precise typewritten instructions for performances carried out in near anonymity by the group "Seminar" between 1986 and 1988. These exacting descriptions are accompanied by photographs, textual and graphic relics and traces. It is a unique work of Soviet bureaucraticism: all that survived of this ephemeral group of "non-aligned" marginals, save a few precious minutes of crumbling 8mm films, screened here at another vacant space for the first time.
RE-ALIGNED
..and into the fire.
The voice of the youngest generation of Russian non-conformist artists stands its ground in dialogue with both illustrious and newly discovered predecessors. In the large-format photograph which documents the street art work eternal flame, T-Radya, 23, paints with Molotov cocktails. His subject is memory. This surprisingly versatile artist's work is exhibited here as a taster, a pre-launch of the forthcoming thematic exhibition project A RE-ALIGNED ART. This project commences at the Tromsø Kunstforening, Norway, in Autumn 2013. The work's clear historical stance, its striking aesthetics, its arresting methods, all speak of a newly "re-aligned" art in our era.
PIRATE TV
For a little comic relief, bridging the era of the non-aligned and the re-aligned, lies the madness of 1990s post-modernism. This will be represented at the opening of NON-ALIGNED / RE-ALIGNED, by a screening of Yuris Lesnik, Vladislav Mamyshev "Monroe" and Timur Novikov's unbearably amusing Pirate TV. Reporting from the Leningrad-St. Petersburg art scene at the height of the USSR's catastrophic collapse, this mock television news show, which legend says hijacked the public airwaves, had the Soviet Union's first public transvestite, Vladik "Monroe", as its anchor news-woman..
About the Curators
Ivor Stodolsky and Marita Muukkonen are the co-founders of PERPETUUM MOBILE, a curatorial vehicle and means of mobilization. They describe it as a "conduit and engine to bring together art, practice and inquiry". The current international RE-ALIGNED project brings their work on Russian non-conformist art at Kiasma into the present, and is projected to broaden its scope at further exhibition venues. Further ongoing processes, among others, are the Perpetual Gypsy Pavilion (Venice 2009) and The Arts Assembly (Manifesta 8). Ivor Stodolsky is a curator, writer and editor, whose theoretical practice is a background to much of Perpetuum Mobile's investigations. Marita Muukkonen is a curator, known internationally for her work at NIFCA, FRAME and FRAMEWORK and HIAP TALKS.
Press images, and further information please contact
Vernissage April 27that 17.00
another
vacant
space.
anothervacantspace.blogspot.com
Biesentalerstraße 16
Berlin D-13359
Germany
Deutschland
(U8 Pankstrasse, S-Bahn Bornholmerstrasse, Tram M23 Osloer Str./Prinzenallee)