After plenty of small steps the events and workshops of the PLURIVERSITY 2016 are underway!
The PLURIversity is initially intended for its participants – and that's potentially anyone, and youth in particular – rather than an art audience, or any other particular public at this stage. We are moving to engage local groups, youth, associations, communities and initiatives – not to produce a 'show' but to ask them to join as participants and/or builders of the variety of PLURI-faculties we are co-developing.
In August-October 2016, our first initiatives include
PLURIstudio (Ramy Essam, Paleface Official)
– Write a rhyme? Wax lyrical? Maybe create a musical?
PLURImedia (Juan-Pedro Fabra Guemberena, Ossi Oxi Koskelainen)
– an artistic walk, cutting through Helsinki to re-map the city
PLURIculturalism (Shieko Reto)
– express yourself: make a LGBTIQ zine / colouring book
PLURIecology (Erkan Özgen)
– bio/sustainable farming, guerilla gardening, green energy, a seed festival, everyone?
PLURIeconomy (Commons-interested groups, get together by signing up on this section of the website! Visitors include @George Dafermos of the P2P Foundation. Locally anchored by Pedro Aibeo at #Viipurinkatu8 . With Ruby Van Der Wekken and hopefully many others 🙂
– A 'co-operative of co-operatives' for Helsinki?
Want to get involved? Contact us! Here at Perpetuum Mobilε, at pluriversities@gmail.com, or sign-up to a given project on our gradually developing website:
Funded generously by Koneen Säätiö – Kone Foundation
GENERAL BACKGROUND
Cultural pluralism in Finland is a fruitful reality, despite recent attempts to undermine and attack the notion of "multiculturalism". Historical minorities are a long-established part of society, and the integration of recent first-generation immigrants has demonstrated considerable successes. As throughout Europe, however, Finland is witnessing a rise of explosive tensions. The dangers of divisive regressions are as great as the potentials of cultural change. How can one create a learning-by-doing platform which brings together a plurality of individuals, cultures and traditions – a university of "pluricultural" life which holds a strong appeal to a new generation?
The Pluriversity invites leading artists, inspiring teachers and art students from a wide variety of backgrounds to build an overlapping series of long-term projects with these very concrete goals in mind. This pilot project grows a set of learning-by-doing platforms to result in real-world outcomes for young people – of all, and especially disadvantaged backgrounds – at a crucial time in their lives.
In the dangerous climate of intolerance and open racism in Finland today, this is a project which directly engages susceptible young people at a crucial time in their lives. While bringing youths into the orbit of "high art and knowledge", it also does so without "talking down", by passing on highly practical know-how and skills, and networks.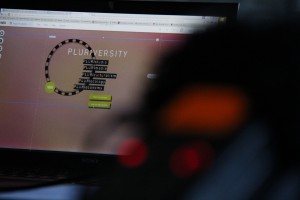 Discover more about Pluriversity!