RE-PUBLIC Russian Art in the Streets
July 29- August 15, 2013 https://www.facebook.com/events/612756408745043/ (See the full programme nearer the bottom of this page)
Curated by Marita Muukkonen and Ivor Stodolsky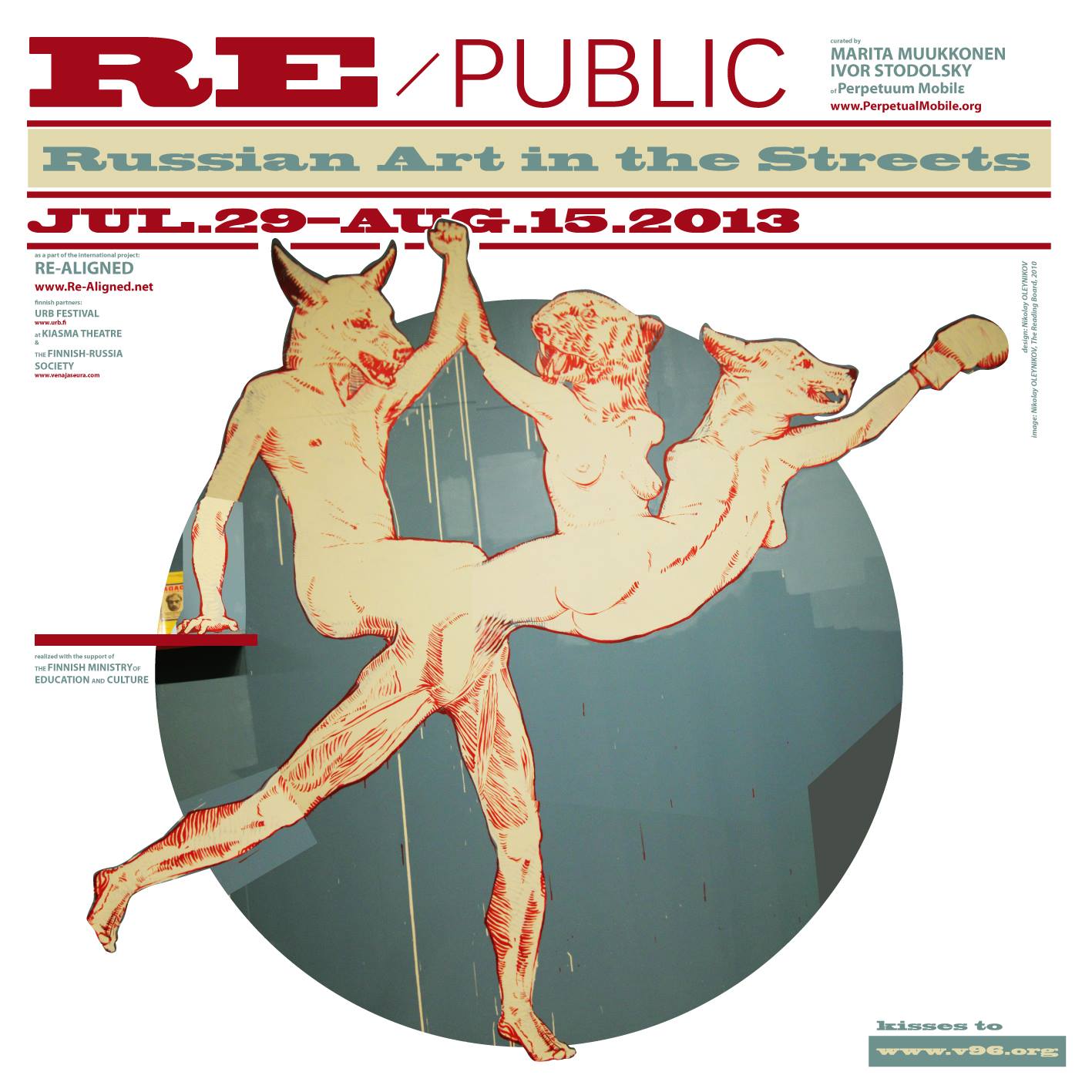 of Perpetuum Mobilε www.PerpetualMobile.org
A part of the international project: RE-ALIGNED www.Re-Aligned.net
Finnish Partners: URB Festival www.urb.fi at Kiasma Theatre & The Finnish-Russia Society www.venajaseura.com
Co-produced by Marita Muukkonen and Ivor Stodolsky of Perpetuum Mobilε in coordination with Merja Jokela of the Finnish-Russia Society and Mikael Aaltonen of the URB festival, Kiasma
RE-PUBLIC is a two-week programme with and about the rapidly rising phenomena of Russian art in the streets … and parks, and empty buildings, near monuments, and in any other imaginable publicly visible space. Alongside the recent waves of protest against the increasingly authoritarian political climate in Russia, artists have taken their talents, ideas, skills and humour into the street. This desire to reconnect with a public outside the narrow confines of the art world often involves an invitation to engage in dialogue, to participate, to think out loud – to do artwork work publicly. This art is often, if not always, a response to the heightened pressure on free expression, or at least is often seen to be so. As in previous times of great public discontent, such as in 1848 across Europe, in 1968 across continents, or in 1989-91 across the former East bloc, artistic advocates of freedom are taking their ideas into full public view. In Russia today, a variety of artistic techniques and strategies can be seen: from graffiti to public murals to street universities, from formal or conceptual works to daring and provocative public performances and actions. Running from late July to early August 2013, RE-PUBLIC will include a series of workshops with 20 younger participants from Russia and Finland, led by the Russian artists Nikolai Oleynikov, Aleksei Iorsh and Roman Minin (unfortunately Alex Vens a.k.a. Sadface cannot come). Each of them will be working on new public works in Helsinki City together with an invited group of younger-generation artists from St. Petersburg alongside Finnish participants (the "Artists on the Street" project). For example, Nikolay Oleynikov will carry out what he called the Learning Mural, which includes the formation of a temporary collective which together ends up producing a (monumental) art piece. It is based on a "narrative plot and bodily, artistic, and discursive practices of communal living, including martial arts, sleepovers, collective readings, music, dance, discussions, drink marathons, street politics, wall painting, screen-writing … you are free to continue this list." The programme of RE-PUBLIC will culminate in a seminar in Kiasma Theatre on the 7th August, opened by Minister of Culture Paavo Arhinmäki. In this context, new artistic strategies of what the curators are calling "Generation Pre-" will be debated, and their relations discussed to the ongoing political protests in Russia and internationally. Invited speakers include Petr Verzilov of the Voina group, who is also a close associate of Pussy Riot; Tatiana Volkova of MediaImpact, the organiser of the International Festival of Activist Art (in Moscow, and in 2013 in Murmansk together with the Re-Aligned project); Kirill Medvedev, a poet and singer and leading voice of the protest movement; as well as the above-named artists, curators and specially invited academics. The seminar will include a performance by the Russian protest band Arkady Kots (Medvedev, Oleynikov and 5-7 others!), which will also be playing a full set in Helsinki the same evening at Dubrovnik. The whole band is staying at the newly developing v96.org activist residency in Kallio. The Artists on the Street project will take place in Helsinki 29.7.-2.8. as well as in other Finnish cities, including on the 2.8. in Outokumpu, the 5.8-6.8. in Hyvinkää and on the15.8. in Turku.
===
RE-PUBLIC is part of a wider thematic called RE-ALIGNED, which is taking place in several Nordic, Russian and European cities, with events from Murmansk to Stockholm, from Tromso (northern Norway) to Berlin. RE-ALIGNED looks into the new conditions, subjectivities and agencies provoking a re-alignment of art, thought and politics of a "Generation Pre-": the newly engaged movements of the 21st century embodied in the Spannish indignados, Occupy Wall Street, as much as the current protesters in Turkey. The notion of re-alignment stands for a newly shared orientation, in relation to common values, desires and possible futures. Overcoming postmodern identity-particularisms (specific to only one culture, gender, class, nation, religion, etc.) these shared alignments embody hopes for new forms of democratic politics, and against authoritarian and repressive measures, no matter what their preferred "isms". These alignments can be seen across continents: from the Arab Spring to "Blockupy Frankfurt", to the Russian protest movement. We are living in a time of political reaction which belies the incredible potential of new collective technologies, such as the internet and other proliferating peer-to-peer networks. In the mouths of our current leaders, the very notion of democracy, transparency and justice seems more and more of like empty promises. "Generation Pre-" on the other hand, invokes the elementary desire to expect more – to look forward. It invokes the elementary democratic principles of rights to think, speak, assemble and act freely, without censorship or punitive measures – be they of psychological, economic, political or of violent authoritarian nature. It furthermore invokes impending future change: either of a retrograde (environmental disaster, economic collapse, loss of rights) or progressive (improvements in justice, ecology and democracy) nature. The notion of pre- stands in contradistinction to the multiple post-'s of the outgoing period. We are speaking here not only of the passing of 'the post-modern' period, as much as the failed western neoliberal dream of post-history (Fukuyama's 'end of History'), but equally the drawing to the end of the interregnum of post-communism and post-coloniality. The RE-ALIGNED project describes a significant shift of people taking to the streets or commons to reassert their basic democratic rights and hopes for the future. The project is realized with the support of the Finnish Ministry of Culture and Education and BarentsKult, Norway.
PROGRAMME
29.7.-2.8. Hernesaari Workshops with 20 younger participants from Russia and Finland, lead by Alexei Iorsh (artist, comics writer), Nikolay Oleynikov (artist, musician) and Roman Minin (artist, Ukraine).
Friday 2.8
5 pm Hernesaari Opening (near the final stop of Bus Nr. 14). Workshop results including pieces by local artists (SAMPSA)
Tuesday 6.8.
2pm Arkady Kots Band at the Esplanadi Stage
8pm Kirill Medvedev: Poetry Reading and interview with Ivor Stodolsky (and a Finnish commentator) at Musta Kissa (Toinen Linja 15, Kallio), co-organised by Perpetuum Mobilε(RE-PUBLIC) and hosted in coordination with Kiila ry.
Wednesday 7.8.
3-7pm RE-PUBLIC Seminar at Kiasma Theatre with Opening Words by Paavo Arhinmäki, Finnish Minister of Culture. Chaired by Ivor Stodolsky and Marita Muukkonen.
Alongside the artists ALEXEY IORSH (artist, comics writer), NIKOLAY OLEYNIKOV (artist, musician) and ROMAN MININ (street artist, Ukraine) and KIRILL MEDVEDEV (poet, musician) we have as a special guest GANZEER, the renowned street artist from Cairo. Participants arriving just for the seminar include PYOTR VERZILOV (artist, member of Voina and close Pussy Riot associate), TATIANA VOLKOVA (curator, Media Impact). From Finnland, we are honoured to welcome ESA KIRKKOPELTO (director of the Theatre Academy) and TEIVO TEIVAINEN (Prof. of World Politics, University of Helsinki).
7.15pm Opening of Street Art Works on the "Baana" (bicycle path/former railway tracks leading from Kiasma to Hernesaari)
Evening Programme at Dubrovnik (downstairs from Corona Bar, Eerikinkatu 11.) For fb and tickets: https://www.facebook.com/events/167034353480702/
9.30pm Poetry Reading by Kirill Medvedev
9:45pm Arkady Kots, the (in)famous 7-piece Russian protest band
11:30pm Balkan Fever club night.
Spin Off Events outside of Helsinki:
5.-6.8. Alexei Iorsh at Villa Arttu in Hyvinkää
15.8.Night of Arts event in collaboration with Youth Centre WIMMA in Turku
SHORT BIOS OF THE CORE PARTICIPANTS: Arkady Kots (Kirill Medvedev, Nikolay Oleynikov et al)– Who the hell this Arkadiy is? Good question! If you ask about the person, we  may answer: well, he was a Russian revolutionary poet and translator, for instance this was Arkadiy Kots himself who translated L'Internacionale into Russian, this first version lately became national anthem for early Soviet state. And recently, just a couple of years ago another revolutionary Russian poet, translator and hard-core socialist named Kirill Medvedev took Arkadiy's name for the his new riot-punk-folk band. http://arkadiykots.ru/ Alexey Iorsh works as cartoonist in media in Moscow. He is also an author of graphic novels, one of the first Russian BD artists. He is a contemporary artist, activist and an independent curator based in Moscow. Nikolay Oleynikov is a Moscow based artist and activist. He is a member of Chto Delat?/What is To Be Done?, editor of the Chto Delat? newspaper, on the editorial board of Moscow Art Magazine (2011), co-founder of the Learning Film Group and the May Congress of Creative Workers, as well as a member of the Arkady Kots band. Oleynikov is known for his didactic murals and graphic works in the tradition of the Soviet 'monumental' school, comics, surrealist-like imaginary and roots in punk culture. He is represented worldwide through his solo projects as well as with number of collectives, Oleynikov has had numerous international shows. See the interview at: http://www.re-aligned.net/nikolay-oleynikov Roman Minin (b. 1981) from Kharkov, Ukraine, is a participant of many group exhibitions and festivals, the organizer of "Street Art Fest" in Kharkov. He was for example the head of the program "ISOLIATSYA in city space" in the center of the modern art ISOLIATSYA in Donetsk 2012. Tatiana Volkova has held curatorial positions at the Tsaritsino Museum, State Tretyakov Gallery, Reflex Gallery, the Garage and ZHIR project, Moscow. She was curatorial team member of a number of large exhibitions including: IV Biennial of Contemporary Art in Cetinjie, Montenegro (2002); "Viewing Pad" at the Moscow Central House of Artist (2003), "Russian Pop-art" (2005) and "Sots-Art. Political art in Russia" at the Moscow State Tretyakov Gallery (2007), "Russian Utopias" at the Garage, Moscow (2010). Since 2009 Tatiana has been dedicated to research and promotion of Russian activist art. Tatiana curated a serious of exhibitions of the young Russian activist artists at ZHIR project, Moscow (Winzavod Art Centre, 2009 – 2010); "Silence=Death" exhibition (Artplay Centre, 2012, Moscow) . Since 2011 Tatiana has been initiator and moderator of MediaImpact Festival of Activist Art. Pyotr Verzilov is an artist, widely known for his provocative political performances in Voina group. Verzilov is the husband and collaborator of Nadezda Tolokonnikova (also known as Nadya Tolokno), a Russian artist and member of the Pussy Riot feminist punk rock collective recently arrested while performing a "punk prayer" protest against authoritarianism in Moscow's Cathedral of Christ the Savior. Verzilov was a member of the Strategy 31 protests, and helped organize the Anti-Seliger and Last Autumn opposition forums. See the interview at: http://www.re-aligned.net/petr-verzilov Marita Muukkonen is a co-founder of Perpetuum Mobile; previously Curator at HIAP – The Helsinki International Artists-in-Residence Programme; Curator at FRAME – The Finnish Fund for Art Exchange; Editor of FRAMEWORK – The Finnish Art Review; 2001-2005 at NIFCA The Nordic Institute for Contemporary Art. Lately she co-curated the Nordic Pavillion in the Dak'art Biennial (2012) among other projects. Ivor Stodolsky is a curator and theorist, co-curator of the RE-ALIGNED ART project, and a co-founder of Perpetuum Mobile. PM's recent projects include Perpetuum Labs, The Arts Assembly and the Perpetual Pavilion, initiated at the Venice Biennale 2009. Ivor is currently curating SAFE EUROPEAN HOME? Berlin, which has been declared the 4th Roma-Gypsy Pavilion to wide acclaim (www.perpetualpavilion.org). Relevant recent publications include "A Multilectic Anatomy of Stiob' and Poshlost'", Laboratorium vol. 3, 2011. RE-PUBLIC – Russian Art in the Streets is as part of the RE-ALIGNED project (www.Re-Aligned.net) curated by Ivor Stodolsky and Marita Muukkonen. RE-ALIGNED is a Perpetuum Mobilε project www.PerpetualMobile.org
Funded by the Finnish Ministry of Education and Culture: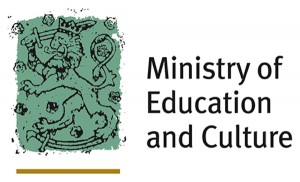 Forthcoming book "A State of Pre" will be published by O.R Books (NYC) in the spring of 2016. The book is co-funded by the Nordic Culture Fund and the Finnish Ministry of Education of Culture: