Nkosilathi Emmanuel Moyo is a human rights and democracy activist, writer and artist based in the mining town of Kwekwe, in central  Zimbabwe. From 9th of January to 8th of April he will be the first AR-Safe Haven Berlin Resident.
This programme is curated and produced by Perpetuum Mobile / Artists at Risk (AR) programme and hosted in cooperation with  SAVVY Contemporary. 
Residency:
AR Safe Haven Berlin Residency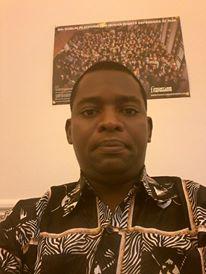 Moyo uses various forms of art (poems, protest songs, and writing) to advocate for human rights and the application of the rule of law in Zimbabwe. Born on the 29th of May 1987, Moyo started writing poems at the age of eleven. His first poem, 'Ndini Mari Ndakumedzai' (Money the root of all evil) was published by the Makonde Star. He's written since a great number of poems, protest songs and books challenging dictatorship and denouncing systematic human rights violations in Zimbabwe – that was followed by political persecution. He has written two books: Robert Mugabe: From Freedom Fighter To The People's Enemy (2015);  Zimbawe:A Revolution Waiting To Happen (2015). He also released an album titled Pisarema raNkosilathi (Psalms of Nkosilathi) a week before the fall of President Robert Mugabe.
His songs were played when Zimbabweans thronged the streets of Harare in November 2017, in the protests against Mugabe's dictatorship. Moyo was recognized internationally after sending Robert Mugabe a prison uniform marked 'Crimes Against Humanity' as a present when he turned 92 – and since then he became a target of different militia groups in Zimbabwe.
He is the co-founder and Director of the Zimbabwe Organization for Youth In Politics (Z.O.Y.P), a non-partisan youth organization seeking for youth participation in electoral processes and citizenship rights defense.
Moyo is currently taking a "breather" as an AR Resident (AR) in Berlin. During his stay in Germany Moyo is working on completing the book Dismantling the System of Mugabeism that will be released in March 2018.
His artistic work seeks to challenge the status quo, and to condemn Zimbawe's oppressive government.
Songs by Nkosilathi Emmanuel Moyo:
Curated by Perpetuum Mobile / Artists at Risk (AR) and hosted in cooperation with SAVVY Contemporary.
This AR-Residency is co-funded by Perpetuum Mobile and, in cooperation with European Alternatives, by the Creative Europe Programme of the European Union.