Questioning Structures which Oppress 'Gypsies' as a Community
Gypsy Revolution is a new project by Damian Le Bas (1963) and Delaine Le Bas (1965) which they are currently developing during their residency at HIAP Suomenlinna. The exhibition is part of a programme of works that question and de-construct the strangulating structures that continue to oppress 'Gypsies' as a community.
Curated by Marita Muukkonen
Gypsy Revolution will be exhibited at the Cable Gallery from the 2nd of February until the 26th of February 2012. The Le Bas' will open a parallel exhibition at Kunstahalle Kallio in Helsinki on February 6.
Safe European Home?, the artists' most recent project, was an installation constructed outside the Austrian National Parliament in Vienna, in May–June 2011. This project addressed the infrastructural and social constructs that, through their inflexible nature, continue to incubate racism. History has shown that, as mistakes are continually repeated, nothing has been learned: new concepts of freedom, new flexible structures which are able to encompass all, are seen as threats to the status quo. In the current economic climate, the old allies of recession and racism rally together again, and the usual scapegoats are targeted, the Romanies ever among them.
The Le Bas' project seeks to open up new possibilities, by working with a range of artists, curators and writers who are working towards transforming the oppressive structures that continue to control 'Gypsy' as a word, as a people, as a culture. After centuries of unabated oppression, the frameworks and repressive systems that continue to control and dictate these racist structures must be overthrown. 'Gypsy' will be reclaimed by the Gypsies.
Among their extensive exhibition practice, Damian Le Bas and Delaine Le Bas were part of Paradise Lost: The First Roma Pavilion, Venice Biennale 2007; and of Refusing Exclusion, Prague Biennale 2007. Delaine Le Bas' most recent project Witch Hunt has been shown across England, Northern Ireland and Germany since 2009 and continues to tour – most recently as part of Reconsidering Roma, Berlin, November 2011.
Damian Le Bas' next project, alongside Gabi Jiménez, is Gypsyland, opening late January 2012 at Galerie Kai Dikhas, Berlin; new works will also be included in The Imagination of the Nomadic in Contemporary Art, Hamburg, February 2012.
Damian Le Bas and Delaine Le Bas acknowledge support from The National Lottery through the Arts Council of England.
Damian Le Bas was born in Sheffield, UK in 1963. Delaine Le Bas born in Worthing, UK in 1965. They live and work in various locations across the UK and Europe.
Current events online: www.reconsidering-roma.de / www.kaidikhas.de
Recent Book Publication: Witch Hunt, aspex/Cornerhouse 2011 (ISBN 978-1-900029-31-5)
Vernissage on Wednesday February 1, 5-7pm. Welcome!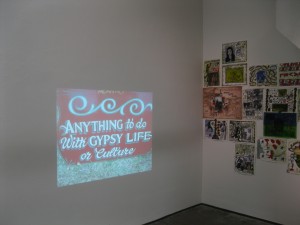 Pictures from the Kallio Kunsthalle exhibition. Picture credit: Otso Kantokorpi