NON-ALIGNED
Lost Notes from the Underground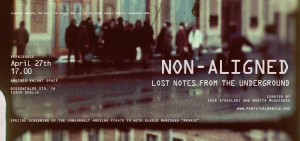 RE-ALIGNED
…and into the fire.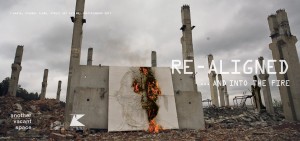 Kuratert av Ivor Stodolsky og Marita Muukkonen
fra Perpetuum Mobile
Vernissage 27. April , 2012 kl 17.00
another vacant space.
(event på facebook)
NON-ALIGNED
Lost Notes from the Underground
The Archive of Leningrad Conceptual Art ble, etter å ha vært innelåst i et skap bak kunstneren Vladimir Semenovs kjøkkenbord i  over tyve år, funnet av Ivor Stodolsky og Marita Muukkonen mens de gjorde kuratorisk forarbeid for utstillingenThe Raw, The Cooked and The Packaged – The Archive of Perestroika Art som ble vist ved Kiasma – Museet for Samtidskunst i 2007-2008.
another vacant space er et stoppested for disse bortkomne notatetene fra den russiske undergrunnen.
Leningrad-konseptualismen var, i forhold til den mer kjente Moskva-konseptualismen, lite kjent selv da den var mest aktiv. Arkivets dokumenter er som en åstedsrapport. Omhyggelig ordnet i nummererte permer finner vi nøyaktige instruksjoner for performancer utført av gruppen "Seminar" – for det meste i hemmelighet – mellom 1986 og 1988, maskinskrevet på skjørt rispapir. Beskrivelsene er ledsaget av fotografier, trykksaker og andre skrevne og tegnede relikvier og spor. Det hele er en unik, byråkratisk rest fra Sovjet-tiden. Alt som er tilbake av denne gruppen med ikke-konforme individer, foruten noen minutter med slitt 8 mm film, vises her i another vacant space for aller første gang.
RE-ALIGNED
..and into the fire.
Stemmen til den yngste generasjonen russiske ikke-konforme kunstnere holder på integriteten i møte med både kjente og nylig oppdagede forgjengere. Et fotografi i stort format dokumenterer verket eternal flame av T-Radya, der han "maler" med Molotov-coctailer. Temaet hans er minne. Denne allsidige kunstnerens verk er stilt ut som en forsmak på det kommende tematiske utstillingsprosjektet A RE-ALIGNED ART. Gjennom sin holdning til historien, den slående estetikken og en usedvanlig metode er dette et verk som peker mot en re-posisjonering av dagens kunst.
PIRAT-TV
For et lite underholdende avbrekk, og som en bro mellom den uposisjonerte og den re-posisjonerte kunsten, ligger 90-tallets post-modernisme. Her blir dette representert av det underholdende prosjektet Pirate TV, skapt av Juris Lesnik, Vladislav Mamyshev "Monroe" og Timur Novikov. I klippene rapporterer det satiriske programmet, som i følge ryktet skal ha sneket seg inn på den offentlige eteren, fra kunstscenen i Leningrad og St. Petersburg. Som nyhetsanker hadde showet Vladik "Monroe", Sovjetunionens første åpne transvestitt.
OM KURATORENE
Ivor Stodolsky og Marita Muukkonen har en omfattende, internasjonal karriere som kuratorer og har i mange år arbeidet spesielt med Russland. De har laget flere utstillinger og publikasjoner om russisk kunst, blant annet utstillingen The Raw, The Cooked and The Packaged – The Archive of Perestroika Art ved Kiasma museum for samtidskunst i Helsinki i 2007. Ivor Stodolsky er kurator, forfatter og forsker, og hans arbeid er ofte en teoretisk bakgrunn for undersøkelsene kuratorene driver. Marita Muukkonen er kurator og har blant annet arbeidet ved NIFCA og i sentrale finske kunstorganisasjoner som Frame og HIAP, der hun har arbeidet med blant annet FRAMEWORK OG HIAP TALKS.
Sammen driver de organisasjonen Perpetuum Mobile, som de beskriver som et verktøy og en motor for å bringe sammen kunst, praksis og undersøkelser. Kuratorene har arbeidet spesifikt med Re-Aligned Art siden høsten 2011. Av andre prosjekter under Perpetuum Mobile kan nevnes Perpetual Gypsy Pavilion (Venezia 2009) and The Arts Assembly (Manifesta 8).
For pressefoto og mer informasjon, vennligst kontakt:
anvaspace@gmail.com
Vernissage 27. april kl. 17.00
another
vacant
space.
anothervacantspace.blogspot.com
Biesentalerstraße 16
Berlin D-13359
Germany
Tyskland
(U8 Pankstrasse, S-Bahn Bornholmerstrasse, Tram M23 Osloer Str./Prinzenallee)