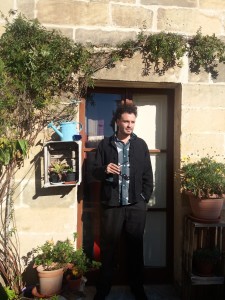 Ivor Stodolsky, Co-Founding Director and Curator of Perpetuum Mobile, is an internationally active curator, writer and theorist.
In previous lives he was Associate Editor of Project Syndicate 'The World's Opinion Page', CIMo and Ehrenrooth Fellow and Researcher at the Alexander Institute. Following studies at Bristol (Philosophy and Mathematics) and the London Consortium (Birkbeck, Tate, BFI, ICA), he was active in co-founding alternative art projects and spaces in London, Vienna and St. Petersburg.
An editor and contributor to journals and publications, Ivor is a speaker at international seminars and conferences on topics in art, politics and philosophy.
Ivor Stodolsky has curated exhibitions and event-series at museums such as Kiasma – Museum of Contemporary Art (2007) and Moderna Museet Malmö (2014); in public space, such as Re-Public (Kiasma, Urb Festival 2013), To the Square 2 (Checkpoint Helsinki, Helsinki Festival, 2014) or Cineromani (Hungaricum, Berlin, 2014); at galleries and art-halls such as Momentum (Kunstquartier Bethanien, Berlin 2014), Tromsø Kunstforening (2013) or Forum Box (Helsinki 2014); run workshops at academies including CAFA (Beijing 2011), the Beaux-Arts (Paris 2012) or Aalto University (Helsinki 2011); as well as curated events at international biennials, such as the Arts Assembly (Manifesta, Murcia 2009), the Perpetual Pavilion (Venice 2009), the Street Art Assembly (Ekaterinburg 2012), Re-Aligned+Media Impact (Moscow 2013), the School of the Displaced (Kiev Biennial, 2015), Artists at Risk (AR) and talks at the Athens Biennial (2015-17) and Dak'Art (Senegal, 2016).
Currently, Ivor's curatorial practice centres on Perpetuum Mobile (PM), a mobile institution he co-founded and directs with Marita Muukkonen since 2007. PM develops larger-scale thematic projects and platforms that come to encompass exhibitions, conferences, workshops, residencies, publications and films relating art, politics and philosophy. Ongoing thematic projects include the Re-Aligned Project (with over 10 iterations internationally), Artists at Risk (AR), the Perpetual Romani Pavilion / Pluriculturalism (recently at Moderna Museet, Malmö), The Arts Assembly, Sino-Fi, the PM Commons Collection and the PLURIiversity. Recently, a new "collective residency" programme included commissioning a film project from the widely known Russian collective Chto Delat?/What is to be Done?. Curatorial publications include The Square (a newspaper), a series of video-interviews for the Re-Aligned Project and an upcoming anthology under the working title Pre-Mondial for OR Books of New York.
Perpetuum Mobile established the Artist at Risk (AR) platform based on residency work initiated in 2014. The AR-Safe Haven Helsinki residency for visual art practitioners and musicians at risk has secured funding and gained national recognition, winning the "Annual Art Act Award" at ArtHelsinki in 2016. In 2017, AR is launching new residencies in Athens in collaboration with the Athens Biennial; in Berlin in collaboration with SAVVY Contemporary; and at Saari Residence in Mynamäki, Finland. AR-residencies in the Provence, Sweden and Italy are being developed with local partners. In 2016, PM's Artist at Risk (AR) platform was honoured with the "European Citizen's Prize" (Civi Europaeo Praemium) of the European Parliament.