PERPETUUM MOBILE
Co-Founding Directors and Curators

Ivor Stodolsky and Marita Muukkonen (in alternating order)
Perpetuum Mobile is regularly called Perpetual Mobile and PM and also appears as Perpetuum Mobilε, PerpetualMobile or just Perpetuum.
Facebook Page: https://www.facebook.com/PerpetualMobile.org
Twitter: @PerpetualMobi
General hashtag: #perpetuum
Recent Project hashtags: #tsq2, #realigned, #GuggOccupied
Email: PerpetualMobile (at) gmail.com
Staff:
Web: Ciaran Gaffey
Internships are offered to highly motivated individuals.
PM is an association registered in Finland as Perpetuum Mobile ry.
CONCEPT
Perpetuum Mobile, co-founded by Marita Muukkonen and Ivor Stodolsky (in alternating order) in 2007, is a curatorial vehicle which brings together art, practice and enquiry. It acts as a conduit and engine to re-imagine certain basic historical, theoretical as well as practical paradigms in fields which often exist in disparate institutional frames and territories. PM has worked extensively in the Nordic, European and international field.
Perpetuum Mobile develops longer-term thematic projects which come to include conferences, workshops, residencies, small and large exhibitions, festivals, public and street art, publications, films and new formats.
Thematic Projects:
The first umbrella-project undertaken by Perpetuum Mobile was the Aleksanteri Cultural Fora which wedded an international conference on perestoika at the Aleksanteri Insitute (University of Helsinki) with a multi-part exhibition at Kiasma Museum of Contemporary Art, Helsinki: The Raw, The Cooked and The Packaged – The Archive of Perestroika Art, November 2007- January 2008. Parallel to this a film series was shown at the National Film Archive, an exhibition of ephemera was held at the National Library, and publications including a conceptual newspaper catalogue The Raw, The Cooked and The Packaged and FRAMEWORK No. 8 In Need of Openess / Paths Not Taken were published. See documentation of the "Perestroika process" on our old website: https://perpetualmobile.wordpress.com/exhibitions/
Artists At Risk
Early 2013 – present
Perpetuum Mobile's ARTISTS AT RISK (AR) is a new human rights institution in the field of visual culture. As a platform dedicated to art practitioners "at risk", the work of AR encompasses mapping and coordinating art professionals under threat, addressing their practical needs and advancing their artistic practice. To achieve this, selected key figures are granted short (and in other sub-programmes, long-term) residencies at so-called "Safe Havens" –- as invited and honoured visiting art professionals. These are art actors which not only greatly enrich their host countries, but are at the heart of rebuilding their often war-torn countries of origin. PM is co-funding the project through its established Safe Haven-Helsinki residency funding, generously provided by the City of Helsinki.
A.R. serves artists, curators, and critics who are targets of politically motivated threats and persecution in many countries of the world. Perpetuum Mobile (PM) cooperates with organisations such as PEN, SafeMUSE and ICORN (The International Cities of Refuge Network) to address the needs of persecuted art actors. Currently PM is establishing "Safe Haven for Artists at Risk" Residencies in several cities, including Helsinki, Athens and Berlin. The City of Helsinki substantially has funded Safe Haven-Helsinki from early 2016. A.R. has been nominated for the European Citizen's Prize of the European Parliament.
The Re-Aligned Project
Dec 2011 – present
The RE-ALIGNED Project looks into conditions, agencies and subjectivities provoking a new alignment of art, thought and politics in the 21st century. With over 10 larger-scale iterations and events in Russia, Ukraine, Belarus, Egypt, Palestine, Finland, Germany, Sweden and Norway, it seeks to align engaged art actors and ideas across continents. In 2014 it included "Back To Square 1" and "To The Square 2" curated as part of Helsinki Festival.
In progress for over three years, this large-scale project has had over 9 iterations and events in Russia, Ukraine, Belarus, Egypt, Palestine, Finland, Germany, Sweden and Norway. Forthcoming events are scheduled for the UK.
The School of the Displaced (Kyiv Biennale 2015)
Dec 2014 –  Jan 2016
The School of the Displaced engages displaced persons/refugees as well as art-actors and associated institutions working in the field of involuntary displacement. It was initiated by PM with the VCRC for the "School of Kyiv – Kyiv Biennial 2015", which was rated one of the 5 top exhibitions in the world by the renowned webjournal Hyperallergic among others. The School's programme included workshops, exhibition and performance projects, discursive events as well as longer-term pedagogical and institutional outcomes for local spaces for displaced persons. For The School of the Displaced program, PM partnered with the Nordic Culture Point, SafeMUSE, ICORN, IASPIS and Frolivka 9/11 next to other key local refugee organizations.
http://www.perpetualmobile.org/category/pm-projects/school-of-the-displaced
BOOK: GENERATION PRE. 21st Century Re-Alignments in Art and Politics
Forthcoming
"GENERATION PRE. 21st Century Re-Alignments in Art and Politics" is an anthology to be published by O/R BOOKS, New York. The volume is a pluridisciplinary investigation into the conditions, subjectivities and agencies provoking a realignment of art, thought and politics in the 21st century.
Contributors: Maurizio Lazzarato (Paris), Lina Attalah (Cairo), Timea Junghaus (Budapest / Romani), Teivo Teivainen (Helsinki) and Ivor Stodolsky (Berlin/Helsinki), Marina Sitrin and Dario Atzellini (Berlin), Michel Bauwens (Chiang Mai, Thailand), Margarita Tsomou (Berlin / Athens), Boris Buden (Zagreb/Berlin), Greg Sholette (New York), Enric Duran (Barcelona), Ásta Guðrún Helgadóttir (Reykjavik).
Original cover art and design by Ganzeer
Layout by Tzortzis Rallis
Introduction: Ivor Stodolsky and Marita Muukkonen (Helsinki / Berlin)
From Non-Aligned to Re-Aligned Art and Politics
Poetry / Lyrics: Ramy Essam (Cairo / Malmö), Kirill Medvedev (Moscow), Paleface (Helsinki)
http://www.re-aligned.net/state-pre/
The Perpetual Romani-Gypsy Pavilion
2009 – present
Perpetuum Mobile's focus on Romani-Gypsy art and the broader issues surrounding "pluriculturalism" are ongoing, most recently at the Moderna Museet, Malmö (2014-2015) with panel talks and workshops organised in co-operation with the Timea Junghaus (curator of the 1st Roma Pavilion, sponsored by the OSI at the Venice Biennale in 2007).
The Perpetual Pavilion was launched at the Venice Biennale in 2009 in order to guarantee the public representation of Romani/Gypsy (as some British Roma call themselves) at the highest professional level. Ten national pavilions joined this emergency initiative. It was strongly supported by the Romani community, as was the "4th Roma-Gypsy Pavilion" in Berlin, parallel to the Venice Biennale of 2013.
Cross-Border-Manifesta-Tions
August 2014 – April 2016
Building on PM's extensive work with Russian, Ukrainian and Belorussian artists in the Re-Aligned project, this initiative developed a critical reading of Manifesta 10 in St Petersburg, developing cross-border artistic and pedagogical projects in Helsinki and St. Petersburg.
http://www.perpetualmobile.org/category/pm-projects/cross-border-manifesta-tions/
SINO-FI
2014 – present
Through SINO-FI, Perpetuum Mobile actively bridges Finnish and Chinese contemporary art practices, establishing an exchange between artists and curators. Talks with figures such as Yang Fudong, Li Zhenhua and Feng Boyi among others have been co-hosted with other Finnish institutions. A forthcoming Finnish-Chinese exhibition is planned for Shanghai in 2016-2017. SINO-FI presents a selection of the latest developments in Finnish art, as well as a historical cross-section of experimental media art, crossed with a selection of Chinese artists by Chinese curators.
http://www.perpetualmobile.org/category/pm-projects/sino- fi
PLURIversity
Jan 2016 – Jan 2019
PLURIversity invites leading artists, inspiring teachers and art students from a wide variety of backgrounds to build an overlapping series of long-term projects for disadvantaged youth. The project develops a set of hands-on workshops on music recording, film-making, media-making, public art and how to bring to life an economically viable organisation, in order to result in real-world outcomes for young people of all – and especially disadvantaged backgrounds – at a crucial time in their lives. Inspired by similar projects in Puerto Rico and supported by the Kone Foundation, PLURIversity includes the sub-projects PLURIstudio, PLURImedia, PLURIculturalism in public space, and PLURIeconomy.
http://www.perpetualmobile.org/category/pm-projects/pluriversity
The School of Engaged Art  At Sula And Trondheim
June 2015 – Dec 2016
The School of Engaged Art at Sula and Trondheim will scrutinize artistic practices which today operate in a world of insular, or even hostile values, and find ways to structure art practice in a way which is strikingly alternative to them, but nevertheless engages strongly with the audience. Today, cultural workers have to restructure their practices to face not just urgent economic issues caused by austerity, a rising trend towards insularity, inter cultural misunderstanding and xenophobia in Europe. In this context, the School teaches students — and through its public performances, engages audiences — to offer a new vision of cultural politics.
The Arts Assembly
2012 – present
The Arts Assembly is a reflexive model for cooperation in the creative field. It unites a diversity of actors in new formats based on participatory action through peer-to-peer platforms. Each AA is a self-constituted gathering with performative aspects and audience participation. It is not a meeting, simply a debate or an exchange of opinions, but rather an urban exploration, a guide to the poetry and politics of the street-art scene, and a mobile debate, a timed and choreographed series of performative events.
This unusual and developing art-and-debate format has been deployed in a diversity of contexts, including the 2nd Urals Industrial Biennale of Contemporary Art in Ekaterinburg, ACSI in Helsinki, the Manifesta 8 (Murcia), ENSBA in Paris and CAFA in Beijing.
http://www.theartsassembly.org/
Perpetuum LABS
2013 – 2014
This experimental series of laboratories in collective learning, activism, art and theory has had two iterations so far.
PERPETUUM LABS/BAC – CURATING THE POLITICAL was held at the Baltic Art Centre (BAC). It was based on texts and discussions proposed by the invited mentors.
www.balticartcenter.com/perpetuum-labs-bac/
PERPETUUM LABS II – CURATING THE SOCIAL in Helsinki (the Library of the Blind, Kallio Kunsthalle and Helsingin Elokolo, attempted to help generate collective momentum for socially-engaged art practices in Helsinki. It was based on proposals from local artists and activists, and included talks by invited art actors.
FUNDING BODIES AND PARTNERS
Our sincere thanks goes to the many funders and partners, big and small, which make our projects possible:
RE-ALIGNED ART from Russia, Ukraine and Belarus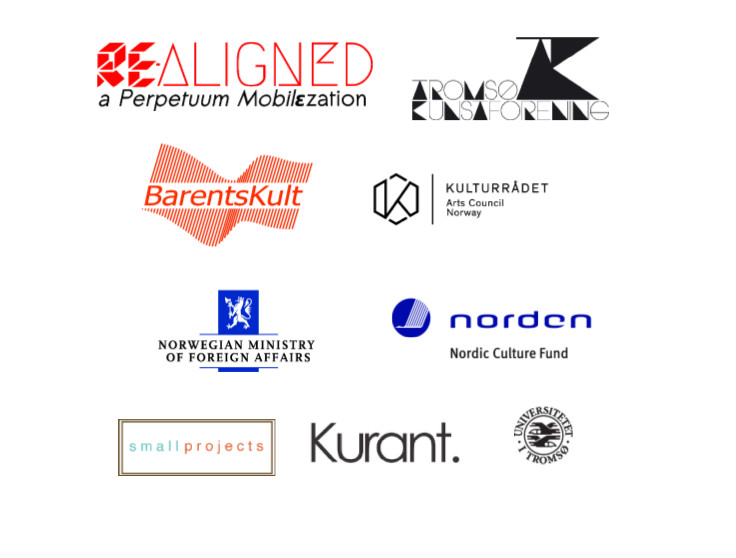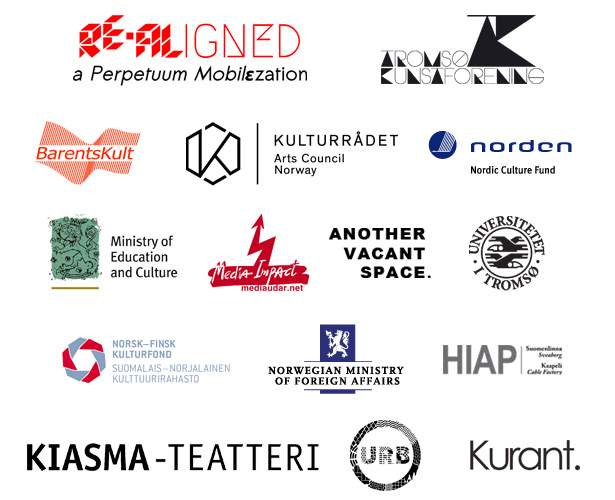 and