Safe Haven Helsinki, curated by Perpetuum Mobile (AR-Artists at Risk), is very happy to welcome Ramy Essam back to the city! The Egyptian musician is already known to Finnish audiences from his participation in PM's #TSQ2 project for Checkpoint Helsinki, and concerts on several occasions.
Ramy Essam is renowned in the Arab speaking world for his part in the protests surrounding Tahrir Square in Cairo in 2011. His song "Irhal" ("Leave") became the anthem of the Egyptian Revolution.
Ramy and Paleface performing at the Lasipalatsi Square in Helsinki in August 2014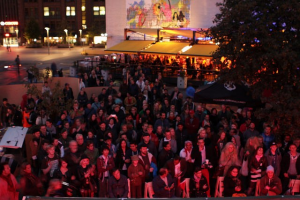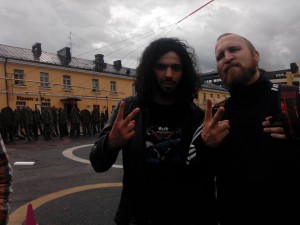 Ramy's second stay at Safe Haven Helsinki stretches from October 2016 until January 2017. Ramy first arrived in Helsinki to play the opening gig of the TO THE SQUARE 2 (TSQ2) project, curated by Perpetuum Mobile and commissioned by Checkpoint Helsinki for Helsinki Festival. This series of open-air panels, talks, presentations, performances, interventions, screenings, exhibitions and concerts took place on Lasipalatsi Square in August-September 2014.
At the time, Ramy was at risk in Cairo, and managed to make his way out of Egypt to Finland, becoming the first "On the Move" or Safe Haven Helsinki/AR resident. His 2-year ICORN residency in Malmö, his next destination, was still in preparation. Now, back from his Malmö Safe Haven residency, Ramy is back.
Ramy is performing in a new play RAMY – In the Frontline produced by Viirus Teater. Performances in Helsinki are scheduled for the 12.10., 19.11., 21.11., 25.11., 26.11., 2.12. and 3.12. For other cities please check: http://www.viirus.fi/ramy-in-the-frontline/?lang=en.
Ramy is also planning to record a new song at Villa Vikan with a group of Finnish musicians. A concert in Helsinki is being scheduled.
For further info on upcoming events please follow our Facebook Page:  https://www.facebook.com/PerpetualMobile.org/
Safe Haven Helsinki is co-organised by Perpetuum Mobilε and HIAP. It is curated by Perpetuum Mobile, and funded by the City of Helsinki.  Special thanks to all our partners including, especially, the Musicians Union!
For further info contact:
perpetualmobile@gmail.com, tel, +358 440965103
Safe Haven Helsinki is a node in the
ARTISTS at RISK (AR) network platform:
www.ArtistsatRisk.org
AR is a Perpetuum Mobilization
www.PerpetualMobile.org