Co-Founding Co-Director of Perpetuum Mobile (PM) / Artists at Risk (AR)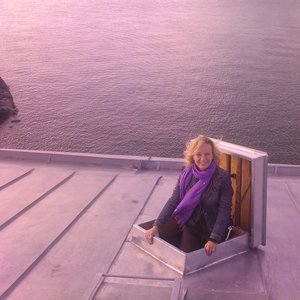 Marita Muukkonen, Co-Founding Co-Director of Perpetuum Mobile (PM), is an internationally active curator based in Helsinki. She has been Chairperson of HIAP – The Helsinki International Artists-in-Residence Programme; Curator at HIAP; Curator at FRAME – Contemporary Art Finland; Editor of FRAMEWORK – The Finnish Art Review; and held key functions at NIFCA – The Nordic Institute for Contemporary Art over several years.
Marita Muukkonen has curated and produced exhibitions and project internationally, including at museums such as MoMA in New York, Moderna Museet in Sweden, Kiasma in Finland and galleries such as Momentum Gallery in Berlin and Bo Bjerggegaard Gallery in Copenhagen. She curates and co-ordinates exhibitions and residency programmes in a variety of contexts. She has worked at biennials including The Finnish Pavilion (Venice 2009), The Nordic Pavilion (Venice 2009), the Perpetual Pavilion (Venice 2009), The Arts Assembly (Manifesta, Murcia 2009), The Nordic Pavillion at the Dak'art Biennale (Senegal 2012), the School of the Displaced (Kiev Biennial, 2015), and the Athens Biennial (2015-17). Marita is also a contributor to art journals, catalogues and publications, as well as a regular speaker at international seminars and conferences.
Currently, among several ongoing Perpetuum Mobile projects Marita co-curates with Ivor Stodolsky, she is developing the large-scale international thematic Re-Aligned Project with its associated multi-disciplinary residency programmes, now in its sixth year. The Re-Aligned Project has included exhibitions, conferences, research and events in Helsinki, Berlin, Moscow, Tromso, Arkhangelsk, Murmansk, Yekaterinburg, Moscow and Cairo. The next step of the project is to launch an edited anthology at OR books, New York. An exhibition is in planning under the working title Pre-Mondial. Perpetuum Mobile is also curating a series of new residency-based art commissions. Among these are Collective Residencies on the island of Sula with the Trondheim based residency organisation LKV. The first commission is by the internationally-renowned Russian collective Chto Delat. With Perpetuum Mobile she also co-curated Outsider Insiders / Pluriculturalism (with Ivor Stodolsky and Timea Junghaus), a two-year project at Moderna Museet in Malmö (2014-2015). This work is being continued in Helsinki as the PLURIversity, a learning-by-doing school with several faculties, including PLURIeconomy, PLURIculturalism in public space, PLURIecology and the PLURIStudio.
Perpetuum Mobile established the Artist at Risk (AR) platform based on residency work initiated in 2014. The AR-Safe Haven Helsinki residency for visual art practitioners and musicians at risk has secured funding and gained national recognition, winning the "Annual Art Act Award" at ArtHelsinki in 2016. In 2017, AR launched new residencies in Athens in collaboration with the Athens Biennial; in Berlin in collaboration with SAVVY Contemporary; at Saari Residence in Mynamäki, Finland; and Wysing Art Centre, near Cambridge, UK. AR-residencies in Berlin, Madrid and Barcelona are being developed further. In 2016, PM's Artist at Risk (AR) platform was honoured with the "European Citizen's Prize" (Civi Europaeo Praemium) of the European Parliament.