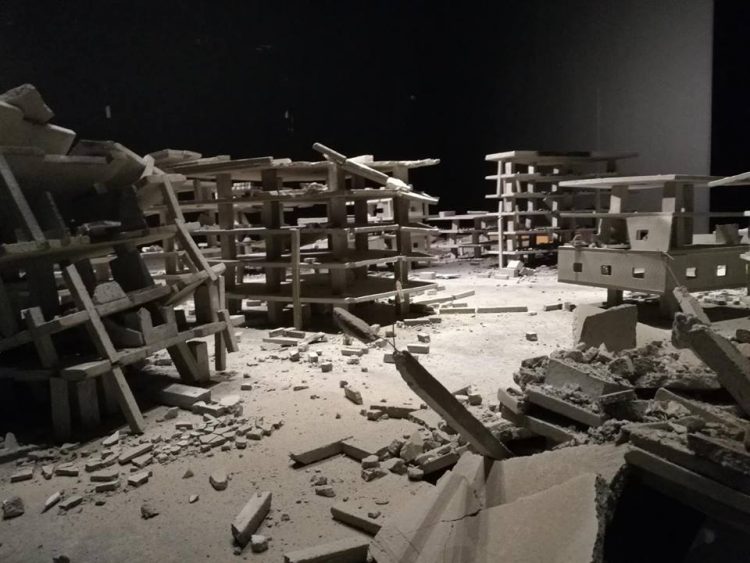 See DOCUMENTATION/INSTALLATION shots here
In this new large-scale installation by the sculptor Baran Çağinli the viewer is confronted by the expanse of a city: a city which expresses the artist's own experience and dilemmas. This disturbing sculptural ensemble is not dissimilar in composition to "Cities Beneath our Feet" (see the workshop with children below), although it encompasses a wholly different tragic aspect. It is a city destroyed by war.
"No Man's Land" is a fragment of the countless cities that have been destroyed and deserted by human-made wars. The artist sees this excerpt of destruction as a reference not only to urban geographies familiar to himself, but quoting Jean-Paul Sartre, to the human predicament as such: "War is not an illness… It is an intolerable evil because it is inflicted by men upon men".
The city, and this fragment – "by human hand abandoned", Çağinli says – gives the viewer the wish to walk through its street, promenades and avenues. Indeed, one can position oneself within it. The difference of scale between the viewer and the viewed leaves no option, however, but of being "the subject of power".
"No Man's Land" is commissioned and curated by Perpetuum Mobilε (PM) as a part of "Suomi Finland 101" curated by Jani Leinonen at Artsi Museum.
Baran Çağinli is currently an AR Resident at Artists at Risk (AR) Safe Haven Helsinki. He was previously an AR Resident at Saari Residence/Saastamoinen Foundation (2017-8).
---
"The Cities Beneath Our Feet"
Architectures of the Commons workshops
by Baran Çağinli.
A part of PLURIversity, a Perpetuum Mobilεzation.
This sculptural workshop with the youth of Vantaa is a way of coming to terms with personal histories and imagining common futures. It is about thinking about everyday life, and imagining and practicing ways of living together in Helsinki today.
The workshop will be taking place parallel to the above exhibition.
In the workshop each youth or group of youths will create models of houses they have known or have seen built in their countries of origin or even houses they themselves conceive. The idea is to create a city together with all other participants. Made out of clay, these houses will accumulate to form a sort of utopian model city.
Once the workshop participants have built their ideal houses, they will add things that might be seen in a city: people, animals, transportation, public buildings, parks, lakes, etc. These additions will be decided together and produced by the group according to an evolving, self-organised plan.
The artist and sculptor Baran Çağinli will guide this process, which will be produced by the Artsi Museum's educational staff and curated by Perpetuum Mobile (PM) in the context of its PLURIversity.
Find more information about Baran Çağinli's life and work on our Artists at Risk (AR) webesite.
"Cities Beneath Our Feet" is curated by Perpetuum Mobilε and co-produced by Artsi as a part of "Suomi Finland 101", an exhibition at the Artsi Museum.
---
Co-produced by Artsi, Vantaa Art Museum and Perpetuum Mobilε
Funded by the Saastamoinen Foundation, the Kone Foundation, Artsi and the Cultural Department of the City of Helsinki