The Cities Beneath Our Feet
A PLURIversity Workshop
at Helsinki Schools and Artsi Museum
by Baran Çağinli
Participating schools: Vaskivuori high school, Torkkeli high school, Sotunki school, Tikkurila IB high school. (229 participants in all)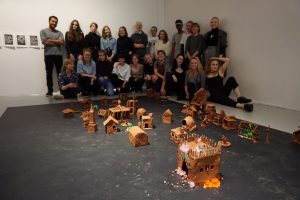 These sculptural workshops at schools in Helsinki  were a way of coming to terms with personal histories and imagining common futures. They provided a way of thinking about everyday life, and imagining and practicing ways of living together in Helsinki today. They included both Finnish citizens and newcomers living in Finland.
In the workshops each youth or group of youths created models of houses they have known or have seen built in their countries of origin, or houses they themselves imagined or conceived of. The idea was to create, together with all other participants, a collective construction. Made out of clay, the houses accumulated to form a sort of utopian model city.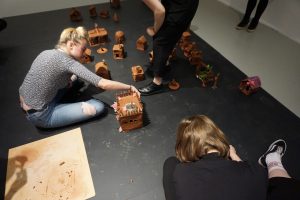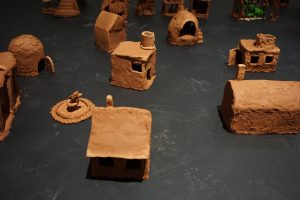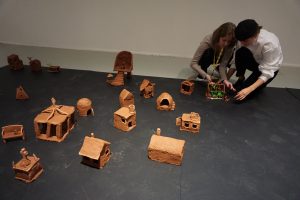 Architectures of the Commons
First, group assemblies of participants were held in classrooms of the participating schools. These assemblies were a chance to discuss how different collective issues in the "model city" can be addressed. This was a dynamic process of thinking through the questions of how to build a "commons city": a city which can share resources such as water, land, electricity, waterfronts and so on.
Once plans had been discussed, and sketches and ideas prepared, each group visited Artsi Museum for a further workshop assembly in which they actually constructed their ideal city.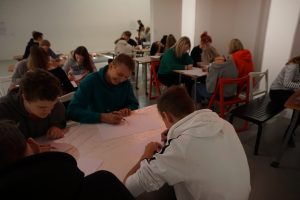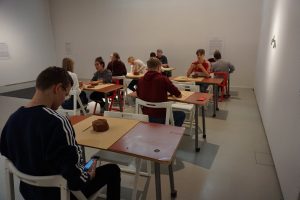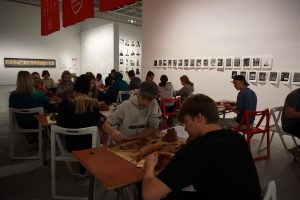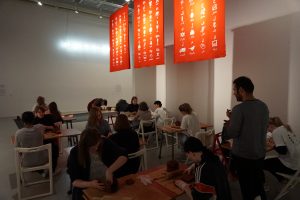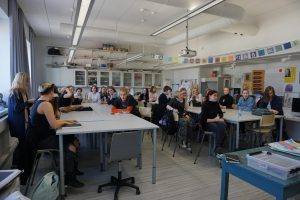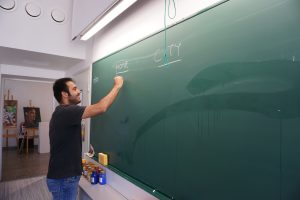 The workshops in the museum took place in a semi-public space, that is, open to participation by any passers-by. They allowed for interaction on other levels as well.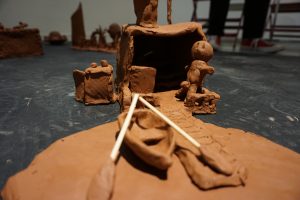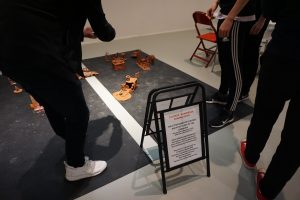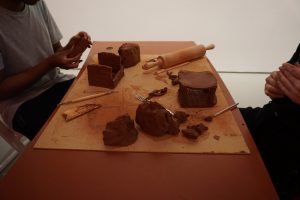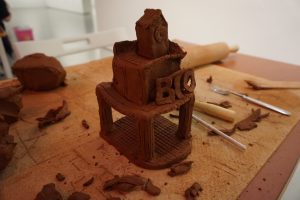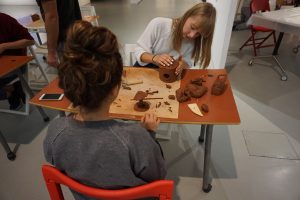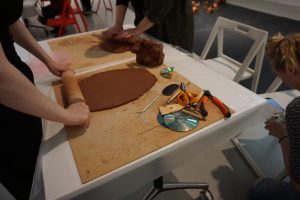 Once the workshop participants had built their ideal houses, they added things that might be seen in a city: people,animals, transportation, public buildings, parks, lakes, etc. These additions were decided together and produced by the group according to an evolving, self-organised plan.
This city hence came together as a product of youth-participants who come from different countries and have different cultural experiences. It became a city grown "in common" that could feed the participants and audiences imagination and reality.
The artist Baran Çağinli, who conceived, guided and led this process, has carried out similar workshops in Turkey. Çağinli is currently a resident of Artists at Risk (AR) Safe Haven Helsinki. For more information, see his bio-page at AR.
"The Cities Beneath Our Feet" was a part of the faculty of PLURIculture
of the PLURIversity (www.pluriversity.net).
Curated by Perpetuum Mobile (PM)
Co-produced by Artsi, Vantaa Art Museum
Co-Funded by the Kone Foundation and Artsi Museum